AWS VPC peering and direct connect
So it turns out AWS isn't so Enterprise friendly.  If you plan to start using Amazon AWS as an extension to your datacentre, be aware that you better put everything in one VPC (July 2015).
Systems in peered VPCs are not accessible from corporate network over AWS VPN or Direct Connect :-(
Be aware of limitations on transiting VPCs in your cloud networking designs.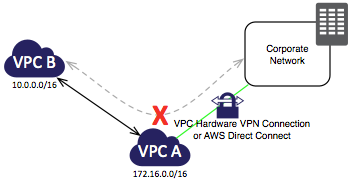 http://docs.aws.amazon.com/AmazonVPC/latest/PeeringGuide/invalid-peering-configurations.html#edge-to-edge-vgw